Rainbow Vacuum Model E-2 (e SERIES™) Main Unit (New)
Model E-2 (e SERIES™)

Rated Horse Power
1.3
Voltage
120
Amperage
10 / 12 with power nozzle
Hertz
60
R.P.M.
18,000
Motor Temperature Rise
85C
Watts Input
1,000
Intake Diameter
2.00 inches (inside diameter)
Hose Diameter
1.25 inches (inside diameter)
Hose Length
7 feet
Sealed Hose Inlet Vacuum, Inches H2O
60 inches lift per minute
Volume Air Movement
70 cubic feet per minute
Power Cord
#17/2 SJT (Service-Junior-Thermoplastic)
Cord Length
25 feet
Water Capacity
2.5 quarts
Weight (with water pan and dolly)
17 pounds 6 ounces
Filtration
3 Microns
Noise Level
69 decimal "A" Scale

Housing:

Type of Material
Acrylonitrile Butadiene Styrene (ABS) Plastic
Thickness of Material
.93

Dimensions:

Length
15.5 inches
Width
11.75 inches
Height with Water Pan
15.75 inches
Height with Dolly
17 inches

Certifications:

Underwriters Laboratories Approved
Yes
Canadian Standards Approval
Yes
Wet Pickup Approved
Yes

Notes:

Motor Design
The motor works to maximum performance with the HEPA filter attached to the motor housing.
Extra Filtration
First motor design to be used in conjunction with a HEPA filter. True H13 class HEPA filter (Neutralizer) >99.95%.
Motor Protection
Self resetting feature that prevents motor from burning up in case unit tips over or if water gets up in motor.
Motor Type / Style
(Type) Brush Mechanical Commutation (Single Phase) - (Style) Bypass Double Insulated with Nickel Steel Shaft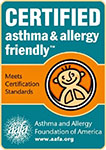 The E-2 (e SERIES™) became a turning point in the design of all other models and is still the basis for every design since all the way up to the E2 Type 12 (e2 Black) version. We provide a complete 4 year warranty on parts, and a lifetime labor warranty. This model has had several revisions and we make sure that all updates are done during the refurbishing process.
If something should go wrong, all you have to do is call and our specialists are here to help. If it is not something simple that can be handled over the phone, we will have your unit picked up at your home the next day for free. If you have this model and would like to order for quick delivery, call us and we can include a return label for your unit to receive a credit.
Does not include water basin.
All warranty work is done the same day. This unit is completely Brand New. Every nut, screw and bolt.
Compared to the D4C SE (Special Edition):
More Power;
Quieter;
Improved Motor Design (Durability);
New Design Separator (Performance);
Locking Dolly.
write a review
Only reviews from customers that have ordered this item from RainVac will be published.