Money Back Guarantee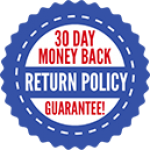 If you are not satisfied with your order for any reason, you may return it for a full refund within 30 days of receipt.
Before returning, you must first obtain a return authorization within 30 days of delivery.
Please call 800-640-2033 to obtain a return authorization number.
Shipping cost (actual cost and not cost on invoice) is non-refundable.
We will include a return label with the correct item if we ship the wrong item.
We will include a return label with the replacment item if you receive a damaged or defective item.
In many cases, the amount we charge you for shipping is less than the actual cost we pay to the carrier. With returns, we will deduct the actual cost of shipping before issuing a refund.
Items must be returned in the condition in which they arrived and in their original packaging.