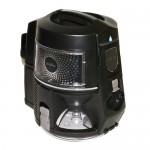 We have every part available to the Rainbow vacuum cleaner E2 Type 12 Black Series Main unit. Follow the categories to the part you are looking for. You can also send a picture to our tech team on the Contact page for assistance.
Below are images breaking down the complete Black E2 Rainbow vacuum model. Click on each area of the system to get a more in-depth view.
Effective serial number 20200001 with a start date of March 10th, 2011 through serial number 22000000 and end date of August 2019.