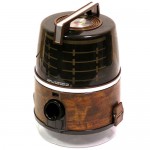 The Rainbow D3 model, available from 1980-1986, was supplied with the power nozzle as a standard attachment and the Aquamate I carpet shampooer as an optional accessory.
Below are images breaking down the complete D3C and D3A version Rainbow. Click on each area of the system to get a more in-depth view or browse the schematics for blueprints to the inner workings.
Effective serial number 4378001 with a start date of March 1980 through serial number 5999999 and an end date of April 1986.