Rainbow Vacuum AquaMate AM-12 (SRX/Black) Parts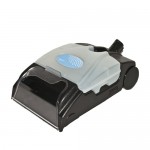 Order parts for your Rainbow vacuum SRX/Black series AquaMate today! We carry everything you need to keep your carpet shampooer attachment working like new. We can help with a simple belt to a complete pump replacement.
The AquaMate IV gives owners the best clean possible for their carpets. It offers better deodorizing capabilities, and can even leave floors drier than ever before after reconditioning them!
To keep yours working at its best, make sure to order replacements as soon as possible if a part starts to get worn out.
Below is a breakdown of the complete AM-12 Black version AquaMate.
Effective serial number 30000001 with a start date of March 10th 2011 through the current version.