Rainbow Model E-2 (e SERIES™) Complete System (New)
Model E-2 (e SERIES™)

Rated Horse Power
1.3
Voltage
120
Amperage
10 / 12 with power nozzle
Hertz
60
R.P.M.
18,000
Motor Temperature Rise
85C
Watts Input
1,000
Intake Diameter
2.00 inches (inside diameter)
Hose Diameter
1.25 inches (inside diameter)
Hose Length
7 feet
Sealed Hose Inlet Vacuum, Inches H2O
60 inches lift per minute
Volume Air Movement
70 cubic feet per minute
Power Cord
#17/2 SJT (Service-Junior-Thermoplastic)
Cord Length
25 feet
Water Capacity
2.5 quarts
Weight (with water pan and dolly)
17 pounds 6 ounces
Filtration
3 Microns
Noise Level
69 decimal "A" Scale

Housing:

Type of Material
Acrylonitrile Butadiene Styrene (ABS) Plastic
Thickness of Material
.93

Dimensions:

Length
15.5 inches
Width
11.75 inches
Height with Water Pan
15.75 inches
Height with Dolly
17 inches

Certifications:

Underwriters Laboratories Approved
Yes
Canadian Standards Approval
Yes
Wet Pickup Approved
Yes

Notes:

Motor Design
The motor works to maximum performance with the HEPA filter attached to the motor housing.
Extra Filtration
First motor design to be used in conjunction with a HEPA filter. True H13 class HEPA filter (Neutralizer) >99.95%.
Motor Protection
Self resetting feature that prevents motor from burning up in case unit tips over or if water gets up in motor.
Motor Type / Style
(Type) Brush Mechanical Commutation (Single Phase) - (Style) Bypass Double Insulated with Nickel Steel Shaft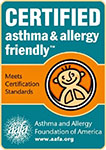 The Rainbow water filtration is something that you have to see to believe. Once dust and dirt get wet, it can't go back into the air. This system is also great for spot and stain removal in carpet and upholstery.
The e SERIES has improved in many areas from the gasket sealed hose connections, to the locking dolly and attachment caddy.
The E-2 (e SERIES™) complete vacuum system carries an unconditional 15 year labor warranty. Our FACTORY AUTHORIZED technical support is what sets us apart from our online competitors. Anytime you have questions, we are here to help.
If you experience a problem that cannot be simply handled over the phone, we will have your unit picked up at your home the next day for free.

This unit is completely Brand New with all factory original attachments and accessories.
Compared to the D4C SE (Special Edition):
More Power;
Quieter;
Improved Motor Design (Durability);
New Design Separator (Performance);
Locking Dolly;
Height Adjustment on Power Nozzle;
Button Lock Attachments.
Included Items:
5/5 By susan mallory On Apr 29th 2019

"Wonderful product, my second Rainbow and love it!!"

5/5 By SPENCER SCHWARTZ On Dec 10th 2018

"This was a replacement for a Rainbow that we purchased in 1990!!! What an excellent value for the $!!! It was easy to order & came right on time--Couldn't be more satisfied!"

4/5 By James Boniol On Nov 1st 2018

"Great ,but miss leading on warehouse rush."

5/5 By Wayne On Oct 7th 2018

" I have just use this vacuum. It worked very well and picked up everything on the floor. "

5/5 By June On Aug 22nd 2018

"This is my second Rainbow vacuum-I lost the first one in a house fire. You know I like it or I would not have purchased a second one. I think it traps the dust and dirt in the water reservoir as you vacuum. Look at the newer models too, especially if you want the humidifying effect you can have, using the machine constantly, not just as a vacuum."