E2 Type 12 (Gold) Vacuum Schematics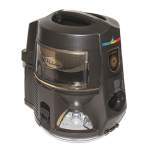 The Rainbow E2 type 12 Gold (e2) series version was manufactured from 2004 through 2008. This was the first version of the two-speed Hurricane motor design. Over the years there have been many improvements and we carry every part.
Below are images breaking down the complete motor and housing assembly. Click on each area of the system to get a more in-depth view.
Effective serial number 1000000 with a start date of September 4th 2003 through serial number 1316999 (rough estimate) and an end date of August 2007.