E-2 (e SERIES™) Vacuum Schematics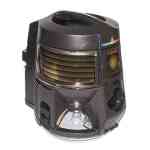 Introduced in 1998, the Rainbow E-2 (e SERIES™) was a complete change for Rexair and their customers. With a complete makeover from top to bottom, this model set the stage for the start of a new era.
We have every part available so you can be sure to keep your unit up like new. We also offer free technical support on all purchases so you can count on us to be there if you run into any questions.
Below are images breaking down the complete E-2 (e SERIES™) version Rainbow. Click on each area of the system to get a more in-depth view.
Effective serial number 9000000 with a start date of August 5th 1998 through serial number 9999999 and an end date of September 3rd 2003.