Rainbow Model E2 Black Complete System (Refurbished)
Model E2 Type 12 (Black)

Rated Horse Power
1.542 (High Speed) .067 (Low Speed)
Voltage
120
Amperage
9.5 / 10.5 with power nozzle
Hertz
50/60
R.P.M.
23,000 (High Speed) 3,000 (Low Speed)
Motor Temperature Rise
85C
Watts Input
1,150 (High Speed) 50 (Low Speed)
Intake Diameter
2.00 inches (inside diameter)
Hose Diameter
1.25 inches (inside diameter)
Hose Length
8 feet
Sealed Hose Inlet Vacuum, Inches H2O
80 inches lift per minute
Volume Air Movement
70 cubic feet per minute
Power Cord
#17/2 SJT (Service-Junior-Thermoplastic)
Cord Length
25 feet
Water Capacity
2.5 quarts
Weight (with water pan and dolly)
18 pounds 8 ounces
Filtration
3 Microns
Noise Level
64 decimal "A" Scale

Housing:

Type of Material
Acrylonitrile Butadiene Styrene (ABS) Plastic
Thickness of Material
.93

Dimensions:

Length
15.5 inches
Width
11.75 inches
Height with Water Pan
15.75 inches
Height with Dolly
17 inches

Certifications:

Underwriters Laboratories Approved
Yes
Canadian Standards Approval
Yes
Carpet and Rug Institute Approval (CRI)
Certified Silver (ID #: 75932)
AHAM Air Filter Certified
Seal Approved
Asthma and Allergy Foundation of America Certified
Yes
Wet Pickup Approved
Yes

Notes:

Motor Design
High efficiency blower is of a single stage construction, consisting of one stationary stage and two revolving fans both having six spiral blades each.
Diagnostics
Smart controller board that uses a red LED light on the front face plate for troubleshooting. (Version 2)
Extra Filtration
True H13 class HEPA filter (Neutralizer) >99.95%.
Motor Protection
Self resetting feature that prevents motor from burning up in case unit tips over or if water gets up in motor.
Motor Type / Style
(Type) Brushless Switched Reluctance (Two Phase) - (Style) Bypass Double Insulated with Stainless Steel Shaft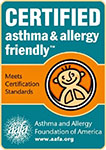 The Black Series has several improvements that make it much easier to change from carpet to bare floors. All wands have electrical self docking connections that allow you to easily switch from the power nozzle for carpet cleaning to a bare floor attachment for cleaning your hardwood or tile flooring.
The hose system has been redesigned to allow for several great accessories to be added. The MiniJet, RainbowMate, RainJet, and AquaMate to name a few.
This model carries a complete 10 year labor warranty and pickup service at your doorstep. If something should go wrong, all you have to do is call our toll free number and our specialists will help you troubleshoot or schedule a pickup.
FACTORY CERTIFIED
Our refurbished systems are done by factory authorized technicians so you can feel confident you are getting what you pay for. If you are looking for a Rainbow to last the next 10-20 years without an issue, then understand we have that same thought in mind when doing our rebuilds.
WE DO NOT USE GENERIC PARTS OR ATTACHMENTS
We are the ONLY company on the internet that can make this claim! (Message us if you find anyone else!) All of our rebuilds are done with factory original parts. Over the years, many improvements have been done and we perform all upgrades on our refurbished units before sending to you. This ensures you get the best performance and durability that Rainbow has to offer.
If you experience a problem that cannot be simply handled over the phone, we will have your unit picked up at your home the next day for free.
All warranty work is done the same day.
Compared to the E2 Silver Series:
Redesigned Cord Wrap;
Improved Edge Cleaning;
Internal Wiring In Wands;
Light On Power Nozzle.
Note: Options above to upgrade hose length and water pan capacity.
Included Items: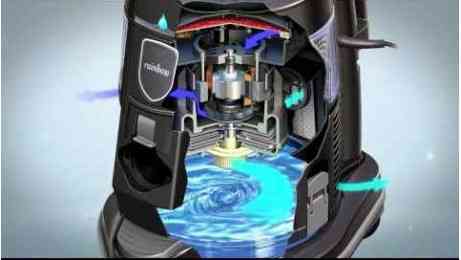 5/5 By Paul Lau On Feb 28th 2020

"An outstanding product. The machine came quickly and in near mint condition. It was clean and sanitized and in perfect working condition with all parts as promised. Rain Vac is an outstanding company to do business with! I would recommend them to anybody looking for Rainbow vacuums."

5/5 By Janis Carrera On Feb 27th 2020

"I love my rainbow. RainVac was fast in fulfilling my order. They have been very responsive to any questions or concerns and they stand behind what they sell. I couldn't be more satisfied."

5/5 By Mike Peery, Leavenworth On Jan 6th 2020

"I received our refurbished Rainbow E2 Black and it looked brand new. We got a good price and good service. Thanks very much to RainVac."

5/5 By John Lasater On May 16th 2019

"My family recently purchased a refurbished Rainbow Vacuum E2 Type 12. When it arrived we were exceptionally pleased with our purchase. We received a quality product backed by RainVac's warranty. Thank you RainVac for the wonderful vacuum and great service!"

5/5 By Ronald Logan On Sep 3rd 2018

"We were were impressed with the quality of the unit we received. It was perfect in every way. "